Elemental All About Mushrooms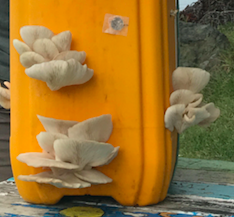 Duration: 3 Hours (approx.)
Location: Auckland, Muriwai
Times: 10am until 1pm
Arrival: From 9.45am
Please note we need 30 participants to proceed with the class.

All Things Mushroom Mushrooms are magical. They're vital to the earth's eco-system and what's more, they are tasty. So if you've always been intrigued by the seemingly humble fungi, here's a mushroom experience you won't want to miss.
All Things Mushroom has been especially cultivated for Elemental AKL by the team at Good From Scratch to help fungiphiles - aka mushroom fans - make the most of this culinary wonder.
On arrival, guests will be warmly greeted by the Good From Scratch team, Michael and Bee Van de Elzen, before beginning their 'shroom class with local aficionado, Ellen Schindler.
The lesson will include learning how to inoculate your own mushrooms, which is how you introduce mushroom spawn to a planting area. You'll also discover all sorts of fascinating facts, from mushroom health benefits, to understanding how they're closer to animals than plants, sharing chemicals in their cell walls with lobsters and crabs. Although vegans can still eat mushrooms with impunity.
For the next segment of this illuminating day, you'll head to the kitchen where Michael will demonstrate some spectacular mushroom dishes, including mushroom tarte tatin, smoked mushroom risotto, mushroom stock, pickled mushrooms and more.
Participants are encouraged to ask questions and delve deeper into the extraordinary world of edible fungus. And because such a busy morning will stimulate the appetite, to round the morning off, a light lunch - accompanied by a beverage of your choice ( a House made Cola , Wine or Beer ) -will be served with an emphasis unsurprisingly on mushrooms.
The magnificent Good From Scratch gardens will also be open for participants to enjoy a leisurely stroll amongst the rural setting.